The Carlingford National Leprechaun Hunt  Sunday 12th May 2019 from 2-5pm
  Assembly and Registration Village Green from 12 midday.
In 1989 a leprechaun's suit and bones with 4 pieces of gold in the suit were found on Foy Mountain above Carlingford Co Louth.
In 2009 the 236 surviving Leprechauns in Ireland were given protection under the European Habitats Directive. They live at the Slate Rock below Foy Mountain which is part of the Cooley Mountains in Co Louth.
As a thank you to the people of Carlingford for getting them protected as a species, the little people have left 1000 cauldrons or pots around the streets of Carlingford.  Each pot contains a voucher that can be cashed into businesses in Carlingford
 One pot will includes a voucher for a real bar of gold valued at €1200 which can be collected on the day.
On the back of your registered hunting licence, you will see a map where the pots are located. They are not located in an area that could be regarded as dangerous. There is no need to climb to find them.
If you find a pot, take the voucher and we would like you to return the pot to the start point.
The bar of gold will be placed in one of the empty pots between 4 pm and 5 pm 
Entry: €6.00 per Adult.     €6.00 per Child.
A family of 4  €20
A family of 5 €25
A family of 6 €30
An official stamped license and corresponding stamped hand must be presented to search and to claim any prize.
Leprechaun Garda will be on hand to see that rules are kept.
Contact: www.thelastleprechaunsofireland.com
Kevin: Phone 0872570539
Profit Proceeds to Cross Cause.
In 2009 the 236 Leprechauns remaining in Ireland were afforded protection under the European Habitats Directive.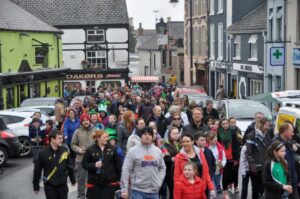 a